+ Hit the road at noon, got down to AC in 2 and a half hours so we were early for check-in. We walked around and the elevators from the parking garage smelled like a dog so I assumed Dublin was there. xD (uh, obviously not lol)
+ Christina and I found out on the way down there that our aunt smokes and she was trying to quit. Yet, I can't even count HOW many times she went out to smoke. I'm not used to it, no one in my family smokes. My pop-pop had a pipe before he died, but yeah. Smoke affects the lungs. I hate seeing her smoke because too many people in our family have already died from cancer(colon, pancreatic, liver, etc.) I don't want another one on the list...
+ Anyway, we walked around and stopped in at the Metropolitan restaurant...AND GUESS WHO WAS THERE?!
+ No, it wasn't David.
+ Yes, if you are thinking of who I am talking about, YOU ARE CORRECT. THEEEEEM. (i'm calling those bunch of people that from now on, lol). I was texting Kara about it, who was supposedly on the boardwalk, lol.
+ It was insanely awkward and I spotted someone who I remember not being able to come...and she was there anyway. WOW. I was sitting in the chair, NOT facing THEEEEM. We told my aunt about it and she was like o_O lmao
+ We went to check in, spotted a bunch of people. hai there Kelly(
ninasfeet
).
We saw you when we were walking to check-in. i smiled, you smiled...but I have no idea if you knew who I was, lmao. Then Amber(
affectingly
) walked up to us in the check-in line. Yeah, sorry for being SO VERY AWKWARD, lmao. It was nice meeting you! :D
+ We went to our room after getting our bags from the car. We were only staying there ONE night, so Christina and I only had our carry-on bags, while my aunt had a whole suitcase, lmao.
+ We were getting ready, trying to find something to watch/listen to on the tv that didn't have anything good. We got all fancied up. I put on eyeliner, eyeshadow, mascara(OMG, MY EYES THEY TEAR UP LMAO) and lip gloss. It's like 5 something, so my aunt tells us to go downstairs for dinner on teh casino floor. We go down the elevator and I look to my right and we see a bunch of people surrounding NFT. My aunt was like "Michele!" and I was like "it's a band member!" and Christina's like "OMG!" lmao. so she let us go up to him while she sat in the casino and I'm taking pictures..they came out blurry cause I was like OMFG IT'S NEAL EFFING TIEMANN(all in my head, mind you lolol)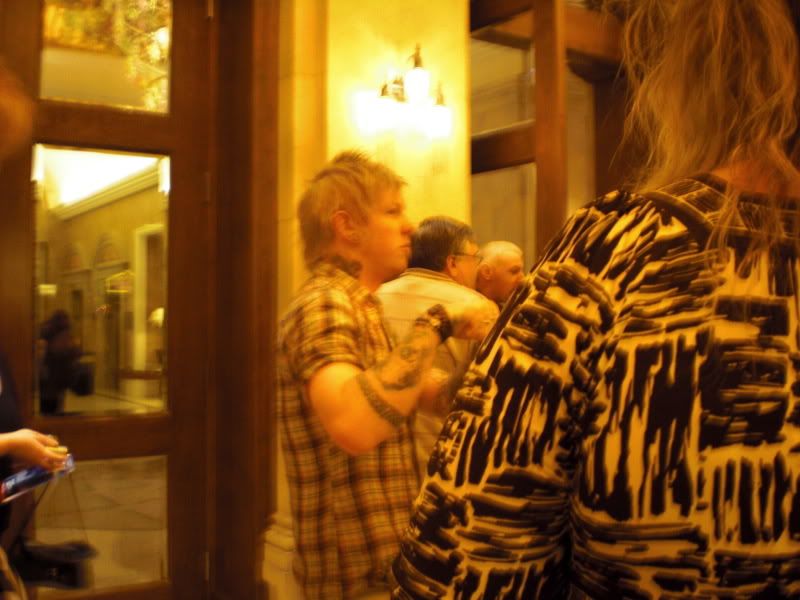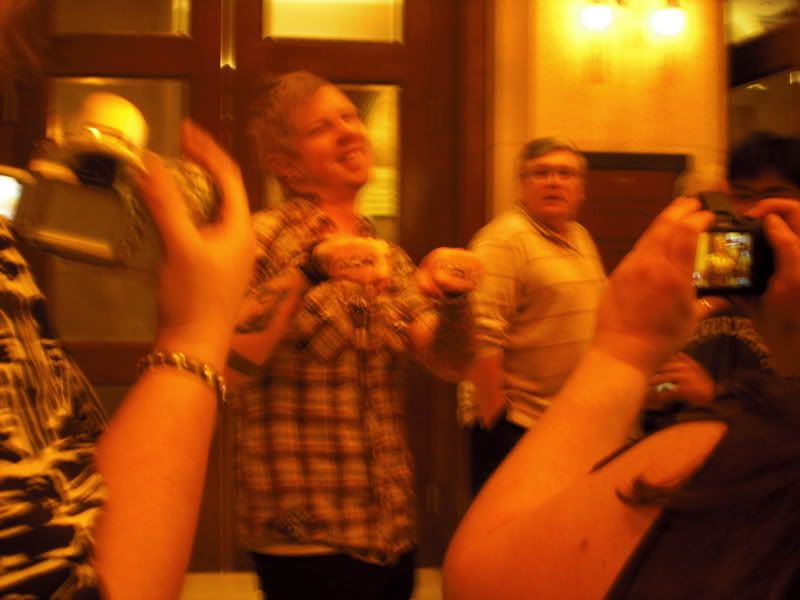 + so he was actually down there looking for a place to smoke, but people spotted him. NOT ALOT OF PEOPLE. they were just talking to him, getting autographs, taking pictures. so he finished talking with a little girl and he's turning around and we're like "NO HE'S LEAVING!" (still in my head) and Christina IDK WHAT CAME OVER HER, but she tapped him on the shoulder(She's now known as the Neal Tapper lol) and was like "Neal.
" He turned and she asked for a picture. He said yeah, I took the picture and my hands were shaking so bad. rotfl.
Look at theeeeem
Then I asked for a picture and he said yeah and I'm gunna post it again, cause I can. bwhahah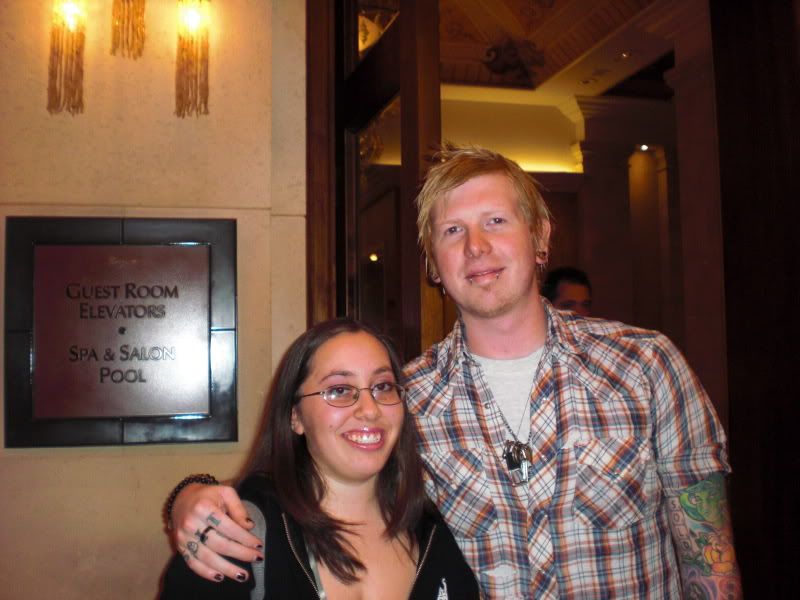 +I SERIOUSLY LOVE THIS PICTURE. LIKE SERIOUSLY. WTF. HE HAS HIS ARM AROUND ME AND IDK HOW MY PICTURE CAME OUT SO GOOD. IF MY SISTER TOOK A SECOND LATER IT MAY HAVE COME OUT WORSE, LOL. Yeah, now I can't wash that sweatshirt. GOD NEAL TIEMANN!
+So we're like ZOMG. I text/call Kara ALOT. She finally answers :P and we tell her where we are. Her, Ash, and Kat come over and Kara says she loves my accent. I REPEAT. NO ACCENT. JUST A SPEECH PROBLEM WITH PRONOUNCING MY R'S SINCE PRESCHOOL. XD I say "I DON'T HAVE AN ACCENT!" She says it's cute. ROTFL.
+We talk for a few, they go off to win some money(or try to, lmao) and we go off to dinner at the buffet. I couldn't eat and I was texting my friend Nicole about what happened. Or was it Amanda? IDEK. But my aunt took my phone away cause she said she didn't want to sit there for hours. I could barely eat cause I just touched Neal lmao and I was like omg O_O We leave, walk around some more and at like 7:40 we go to the Music Box where there wasn't a long line. My aunt didn't want to wait, so she went off to somewhere while we waited. I saw a bunch of people from facebook and on here. hai there
njdevilsfan
and
16tosvo
. xD and the doors opened and we head straight for the merch table and I bought a picture, tour shirt, DCTS(David Cook The Scarf xD) and we went to our seats. I was sitting right behind kellynic from twitter and Jill from facebook. I saw THEEEEEM and was like wow, they have second row and I thought they said they didn't have really good seats...*sigh*
+ I text Kara and she's like where are you? I text back and say in the music box and then I look to my left and see her on the other side of the middle section looking at me, she stands up, and waves and does some type of dance, lmao..idk. xD and I look at my phone and she had texted me back saying stand up and wave, so I waved! *waves again* HAAAAAIIIIII THERE. So they come over to talk for a bit and I point out Ash's awesome shirt and I'm like "Joey" like I said it so retardedly(yes, new word, ha!) and then they go talk to Jess about the keytar(right? or am I getting these things out of order? lmao)
+ 8 pm. Lights dim. and a space ship comes sailing through and robots come out and sing and do the robot to Life on the Mooooo. it was reaaaal i tell ya!
+ Or it was all a lie and Ryan Star came out, sang (imho) REALLY GOOD! I love Brand New Dayyyyyyy! FOR REAAAL. XD He sang Psycho Suicidal Girls and pointed out THEEEEM. Seriously Ryan Star? I'M UP HERE AND KARA, ASH, AND KAT ARE OVER THERE. PAY ATTENTION TO US PLEASE. KAY THANKS. ;D
ONLY PICTURE I TOOK AND SAVED, LOL.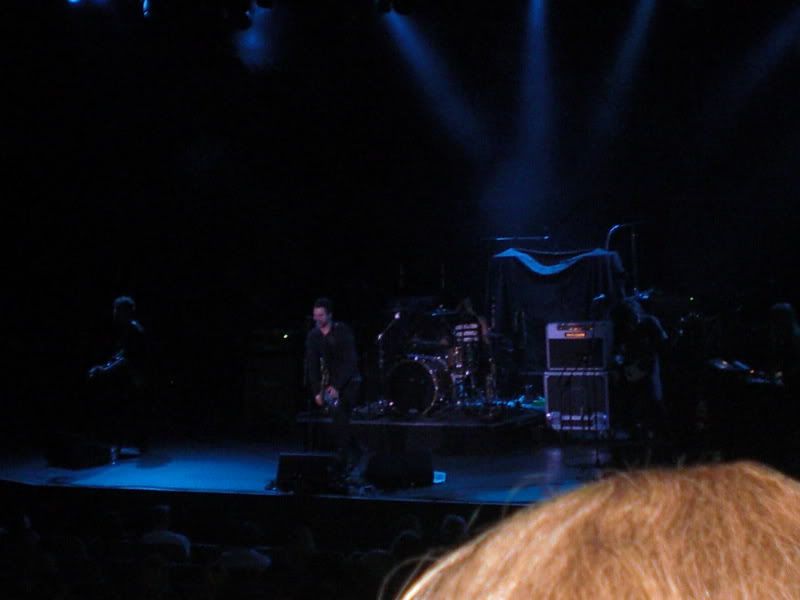 + His set ends, we go out of room and buy his CD and he autographed it and I got a pictureeeee.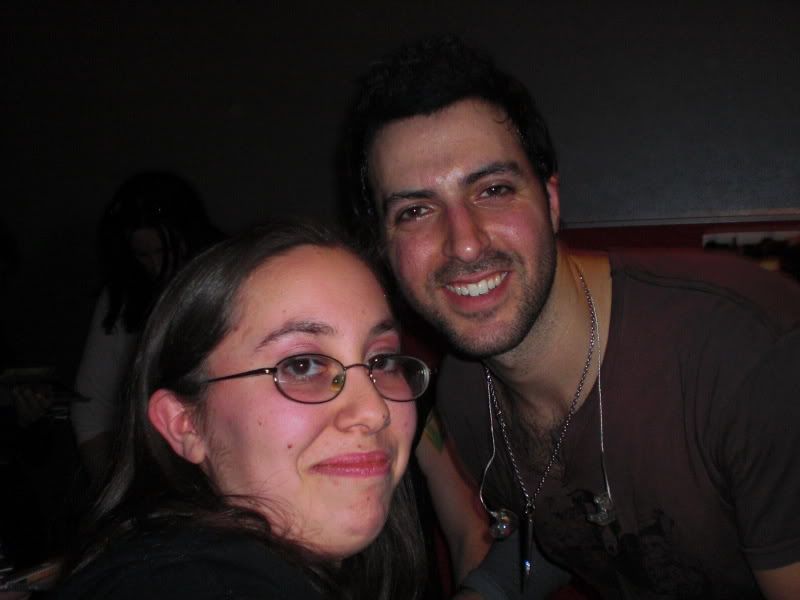 AGAIN, EW MY FAAAAACE. I totally should have smiled with my mouth OPEN. LOL HAIR CHEST THAIR RYAN. LOL
Then Christina got a picture. She apparently thinks her smile and Ryan's look alike. I DON'T SEE IT. *puts on granny glasses*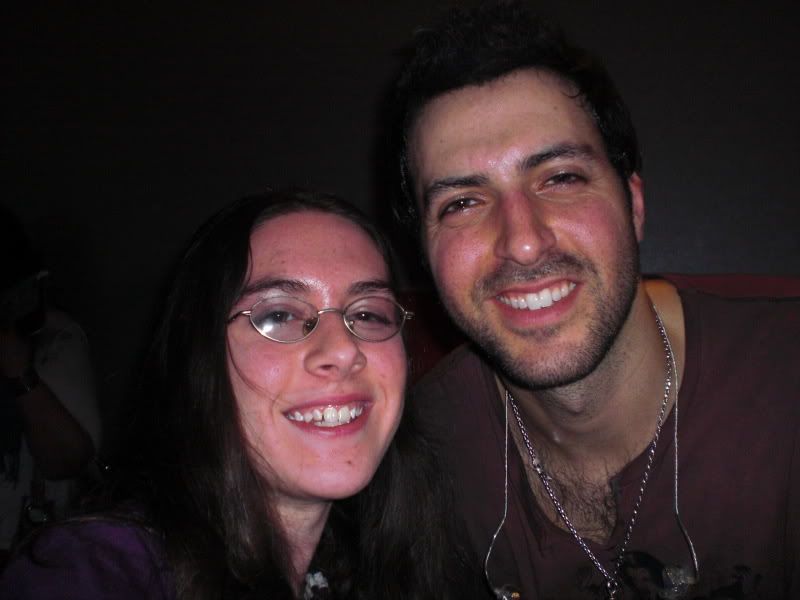 IN MY OPINION HER SMILE IS LOPSIDED OR SOMETHING, LMAO. *cough*MY PICTURE IS BETTER*cough* what? oh yes, daaavid.
We go back and sit and I'm like looking over at Kara, Kat, and Ash and I had no idea what they were doing so...lol. The lights dim once again and the stage is dark and David comes out with TWIK and I died.
SEE MY VIDEO: THE SHAKINESS IS LIKE IN FULL FORCE, BUT IT'S STILL GOOD. SO WATCH LOL.

Then right after he did Heroes, which I also got on video!

Yes, I sing in the video. DEAL WITH IT, LOL.

Then he did We're Only Honest, which my sister got on video!

Then banter about him NOT being Dane Cook, getting booked there and how he almost got a residency, but only stayed 2 nights. BLAST XD

I was taking pictures in between and then I videoed part of CBTM before my camera failed and said the memory was full. FAAAAAAIL!

Life on the Moooooo

Come Back to me(first part, my video)

(Second part, my sister's video)

Then partial Declaration. My sister wanted to stop recording so she could actually clap right since we never did that the Gala or Album Release back in November, lol.

Some banter and then MR. SENSITIVE. *insert joey jumping* DUN DUN DUN!

Lie, lie, lie....

MAKE ME FALL FOR YOUUUUUUUUUUUUUU...as if i had nothing else to do

SOUVENIRRRRRR.

Then KOTN. He let us sing "IT'S JUST A KISS ON THE NECK" back to him. Yeah, you hear my sister yell it in the video, it's hilarious. rotfl. AND WE GOT A BACKBEND AT THE END OF IT. *DED*

THEN HOT FOR TEACHER. HOTTEST THING EVER. \o/

BILLIE EFFING JEAN. JOEY CHEERLEADS. FIRST PART OF LIGHT ON WITH GLOWSTICKS.(WELL I USED MY CELL PHONE, LOL)

After the lights turned back on and we all sing back to him. =)
So no ADAM *disappointed* It was actually ON Friday's setlist, which Neal put together...along with Permanent, but David being the boob that he is changed it up and played those two songs SATURDAY night. FAIL. xD
Oh well, Friday night>>>Saturday night :P
After the concert, we met up with Daina and Amanda to give Daina her Pemberton ticket and we finally met Amanda(same girl who got the AI tour jacket at the Gala). We'll be seeing both of them this Friday.
Here's the bad stuff now.
Kara, Kat, and Ash...we never told you any of this, cause well it would have been awkward.
Our aunt said she was going to get water and she would be waiting for us in the "living room" by the elevators. We talk with Kara, Kat, Ash, Jess, and Jill and we just started walking around and then we were going to go hang out, so we were going to go up the elevators. Our aunt saw us and was like "I can't allow you to go." So we're like okay, but she told me to call Kara and I did and apparently since I addressed her as SHE over the phone, she got pissed. I was like "..." and we got Kara's room # and went up the elevator. Our aunt said we could stay there until 1, but we were up there, just talking about stuff and they were going to go downstairs. So we decide to go back to our room and our aunt is like "What are you doing back? It's only 12:30?" We told her they were going downstairs and she's like okay. We asked to go downstairs and sit in the living room in case they were there. We went down there and waited on comfy chair like things, lol and Neal zooms right past us and I'm like "Christina!" and then I turn and look behind me and see Joey, Kyle, Andy, and a bunch of other people. Christina's like "Get Kyle!" but I was like not moving. I got up, but made no moves. I was like "He's talking to someone" but we realized that the people with them were from Tulsa, hello there Nick Gibson!
We didn't even realize it was him until later, lmao. So we're still waiting there and Kelly, Amber, Tracy, and Brooke came past us and we told them that the band walked right past us. Thank you for offering us tickets Amber! I so wish I could have gone Saturday too! And we're still waiting there and some guys walked past us and were "What's up ladies?" I was like O_O and we moved to the other side of the living room and our aunt calls us cause it's 1:10 am. We tell her we're coming up and she hangs up on Christina and we're like...okay then. We go upstairs and she's annoyed at me and she's like "You know what you did." I was like..."I don't." and she's like "Oh, you can come up with a better answer than that for a 17 year old." I'm confused, clearly and it's like a eerie silence in the room. She says she's going out to smoke and I'm crying and our mom calls and Christina puts me on the phone and I'm like bawling into the phone and I was like "IDK WHAT I DID." and we explained what what happened and my mom was annoyed, but she was like "I'm 100 miles away. When she comes back, just apologize and then call me back."
The rest of the night was just ugh. I apologized(Christina, too) and I cried myself to sleep.
The next morning we went out to breakfast, my aunt said she should have brought her own friend cause she didn't realize that we were going to hang out with people. I felt bad, but it was just really awkward. This has never happened before, but I don't think I want to go with her anywhere overnight anymore. My mom was also pissed cause my aunt said that 4 people couldn't go, so that left my mom out. When there are 2 beds, that can fit 2 people. I'm really happy that it's my MOM that's coming this friday to Pemberton. It'll be easier.
A few picturessss
THE BORGATA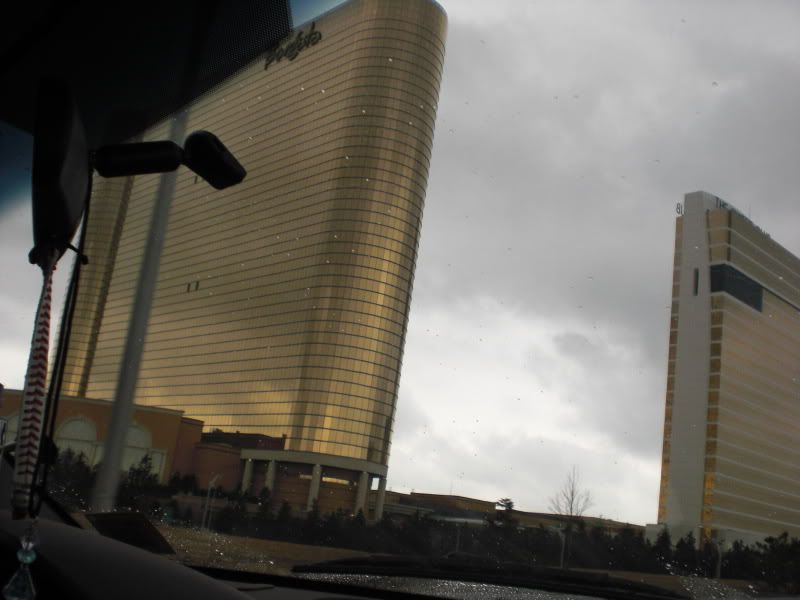 DAAAAAAVE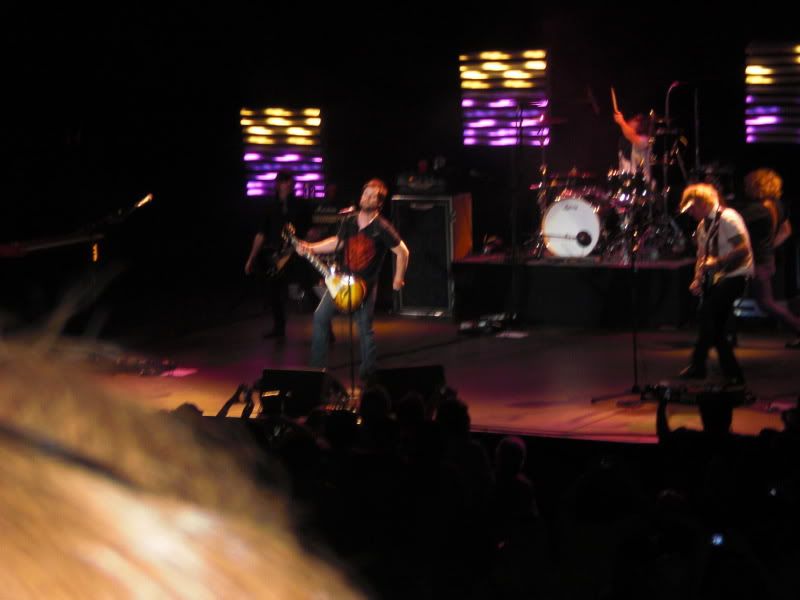 KYLEEEE.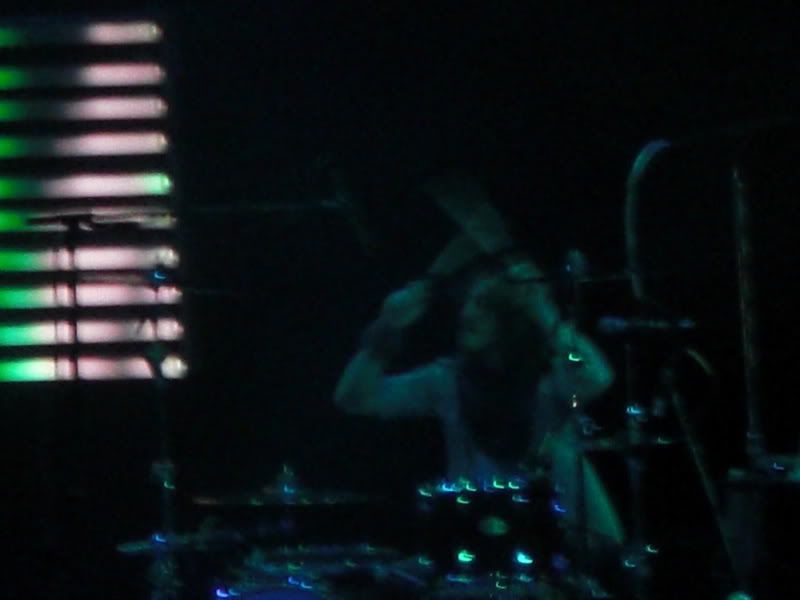 DAVE & JOEY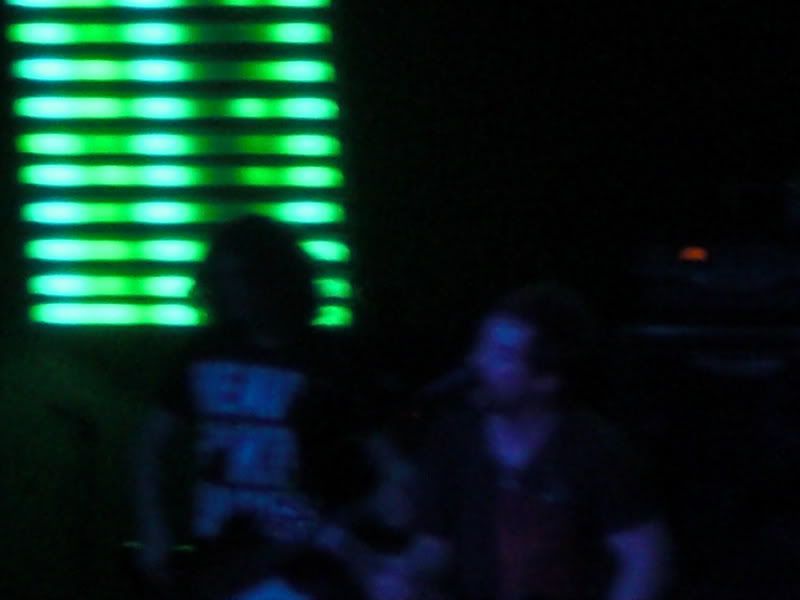 actual view from our seats, not bad at all. MOVE HEAD.
and goodnight all. xD