David Cook at Burlington County College: EPIC, EPIC Recap.
(IDEK WHY, BUT I THINK THIS WAS MORE EPIC THAN AC, BUT ONLY BECAUSE I DIDN'T GO TO BOTH NIGHTS AND CAUSE HE PLAYED A CERTAIN SONG AT THIS CONCERT, LOL)
We are never going to Pemberton again, omg. The college was in the middle of nowhere. I thought I was in the farmland, which most of southwestern Jersey is, right? lol I am such a North Jersey-er? lmao. We parked and it smelled like crap, lmao. SERIOUSLY. rotfl. Cow poo to be more precise. We finally find the P.E. Building, which was behind the library apparently. I see Kara in front of the line and I'm filling out a paper to win David's autographed guitar. (yeah, I didn't win, lolol) and Kara sees me and waves, but my mom is using my back to fill out her paper, so i'm like leaning down, waving at Kara and finally I go over to her on the OTHER side of the yellow barricade. I ignore THEEEEM in the front of the line who are sitting there like they own the place. I say hi to Kara who is talking to some woman from California. She's trying to figure out how to give the radio dude her Light On(from her video that she sent it, again...she should've won that! lmao) and the woman grabbed it and ran over to the guy. Later on, she emailed it to him, but he never played it. FAIL RADIO DUDE. But they had David on the radio and apparently he was talking about playing football earlier and eating a sandwich, lmao. WTF!DAVE lol
Celiaaaaa comes with her sister and I say hi cause
apathyxurgency
is awesomeness. Kara comes over and we talk and I don't remember what we talked about lmao. Later on, some band from the school probably starts playing. They weren't good haha, I'm so mean. I wasn't paying attention, lmao. I was clapping randomly and I didn't even know what for. I was just following other people. I go back over to my mom, sister, and brother and my friend Rachel, who went to the Rowan show got a ticket to the show because some person had an extra. We start talking. There's an older woman in front of us, who is talking to my mom and some girls that were there and we were talking about how our friends don't understand our love for David. The one girl said that she feels so stupid when she talks about him because none of her friends care. I found the girl on facebook and she apparently goes to some school in Philly. <- like you needed to know that, lmao. Brittany and her sister are in line and our other friend Jeanette was there also, we all talked. Jeanette's myspace said she was 21, when in reality she is only 16. I thought she was 21, seriously because I knew she went to the Biloxi show. Apparently, she has 3 credit cards and has been going places since she was 13. I was like O_O She lives in Lodi, which is in Bergen County, which is like the richest county in Jersey. ( I think, lmao -- the JoBros are from there. bahaha, along with Constantine Marulios - ew lmao - and Tara Reid ) Okay enough with these random facts, ONTO THE AUSSOMENESS.
We talked, we stood in line for hours ( NOT THAT MANY HOURS, IT WENT BY PRETTY QUICK ACTUALLY ). Then we were all afraid that when teh doors open, there will be a stampede and my mom was telling us to drag/pull her in cause she can't run, lmao. She has arthritis in her knee! But the doors open and it was calm and they ripped our tickets and took his head off and kept that part to themselves. GRRR, LMAO.
We run in like crazy people into the gym(which seriously looked like the gym at my school, why not play in a HS Dave? lol), there are already people in front of us. So I'm like 6 people from the stage and of course, THEEY are on Neal's side right in front of me. They weren't really distracting though, lol. (I'm not even going to question how they got tickets to this. I don't WANT to know how.) We're waiting, my feet hurt. FOR REALZ. XD I wasn't even wearing flats. Some random photographer lady was on stage taking pictures.
CONCERT BEGINS.
Ryan Star was aweeeeesome. He called us the most awesome crowd. He sang "Psycho Suicidal Girl" and we all sang "...and the sex was nice." back at him, lmao. He was amazing, look video I took, haha.
he had some banter about how he is from Long Island and how it's practically Jersey and IDEK what else, lmao.
I also got "Last Train Home" on video, SEEE.
I seriously love that song. lmao
He sang one last song and then left the stage to go outside and sign CDs at his merch table.
We're waiting, they do the meet and greet thing which I didn't win, but Annette from DCO and THE DASH won. She's met David a lot already. I feel like it was planned, but everyone is saying congrats to her because she does so much. IDEK.
David comes and we're all freaking out and suddenly, the pain leaves me. LMAO
HEROESSSS
THAT IS NOT MY SCREAMING/SINGING IN THE VIDEO THAT IS REALLY LOUD. THAT WAS BRITTANY, LMAO. (LAUGH ALL YOU WANT, LOL.) You can hear me, but ONLY a little. That is NOT my voice, lmao. ALSO, I AM SHORT SO OF COURSE, PEOPLE HAD TO PUT A POSTER UP SO I'M LIKE RAISING MY ARMS. (MAJOR PAIN LATER ON FOR REALLLZ) ALSO, MOST OF MY VIDEOS ARE SHAKY FROM FLAILING, ARM PAIN, DAVID BEING IN MY VIDEOS AND FROM PEOPLE LOL)
Then he goes straight into "We're Only Honest" and Brittany freaked out because this was the song she wanted to hear, so yay. LOL
LIFE ON THE MOON COULDN'T BE ANY STRANGER, LIFE ON THE MOON COULDN'T FEEL THIS FAR AWAY
Come Back to Me(BEST CBTM LIVE YET, IMO)
Also, you don't understand how much we were cheering, clapping, singing along at this concert. David was soaking it all in and he was smiling and I wanted to smish him, lmao.
THEN, THEN I HEAR THE CHORDS FOR THE NEXT SONG AND I'M LIKE "BILLIE JEAN?" AND THEN I'M LIKE OMFGOMFGOMGOMGOMG.
IT'S NOT BILLIE JEAN! IT WAS LIVIN' ON A PRAYER. I HEART YOU DAVID COOK!
Then at the end, which I sorta caught on video before Declaration, he says, "I haven't sung this in over a year and a half. And what better place to bring it back right?" HE LOVES JERSEY. FOR REALZ. LOL. Also, IDEK KNOW BUT WHENEVER HE SAYS NEW JERSEY I FLAIL A BIT. LOL. He says Pemberton, New Jersey in one of my videos and on the inside I squeed like a crazy person, lmao.
Then he sang Declaration, which I didn't record because well. I wanted to clap and sing along. which if you see other videos we do, lmao. see ANOTHER video.
Then he did Lie and he paused at one point, we all screamed and he smiled and started singing again. IT'S SO WEIRD. I have heard "Lie" at every concert I have been to so far, he like knows I'm there. o_O *hides* I LOVE THE SONG THOUGH, HAHA.
THEN HE DID KISS ON THE NECK AND HE TOUCHED HIS NECK AND IT WAS THE HOTTEST THING EVER. THE MOAN OMFG.
Then he did STRAIGHT AHEAD AND YOU HEAR MY SISTER IN THE VIDEO TELL OUR MOM IT WAS FROM ANALOG HEART(apparently, she said she whispered it, lmao..but in reality, she didn't.) HE GOES ON HIS KNEES DURING ONE POINT AND I CAN'T FIND HIM CAUSE I'M SHORT, BUT HE POPS UP, LOL.
picture of him kneeling from
here
Then he did Mr. Sensitive :)
Then he did H4T and we all died, lmao. Joey does a kick at the end, which I caught on video!
Then we all started chanting David for like 2 minutes. I was like omg, they are taking forever, hah. not really. but then Kyle came out to do a drum solo for his drum teacher that died 7 years ago on March 27th. It was amaaaaaazing.
Then they did Bar-Ba-Sol and I got a lot of Neal on our side during the solo or is it a duet cause David was rocking out on the other side? lol
Then he did Light On and he said it was going to the be the last song, so I was like :( cause I wanted ADAM, but LOAP made up for that. Hopefully, when we get tickets to Musikfest, he sings it there, lol.
This is not my video, this is Rachel's video from david-cook.org. She got a really good close up, it also has the band intro, with Joey "Stinky" Clement, lmao.
PICTURE TIME. I'M NOT POSTING ALL 100 BAZILLION PICTURES, FYI LOL.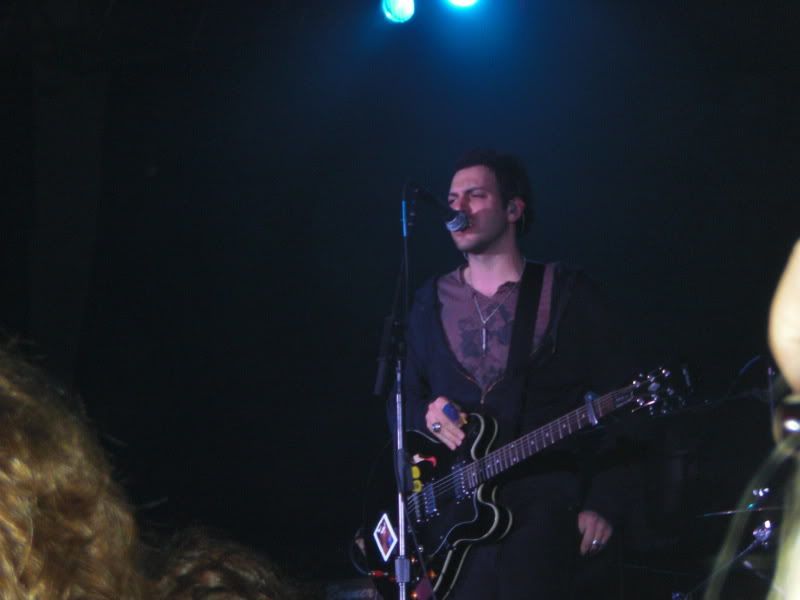 Ryaaaan. Yep, that's it. LOL. Just kidding. Go
here
for more Ryan pictures.
POSSESSED!DAVE, LOL. IT'S THE YELLOW-EYED DEMON FROM SUPERNATURAL. OH NOES, LOL.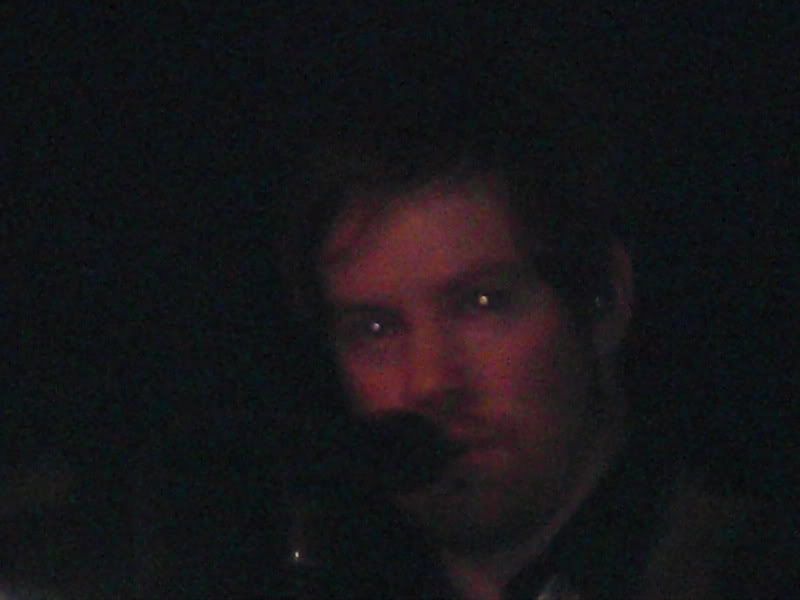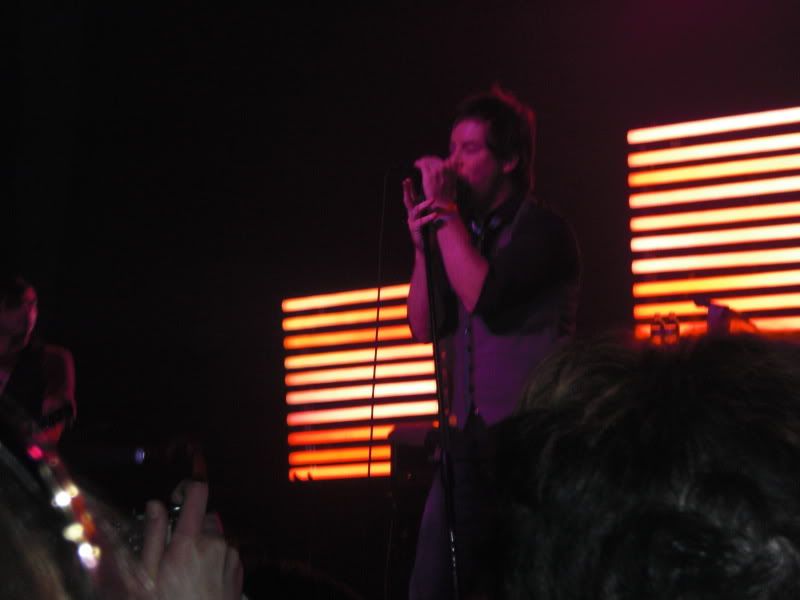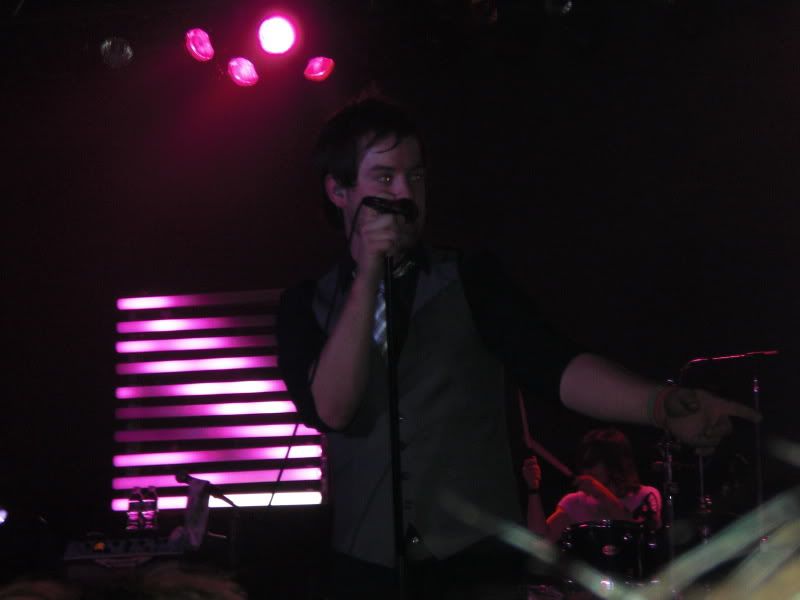 I'm too lazy to fix his eyes, lmao.
He was hungry.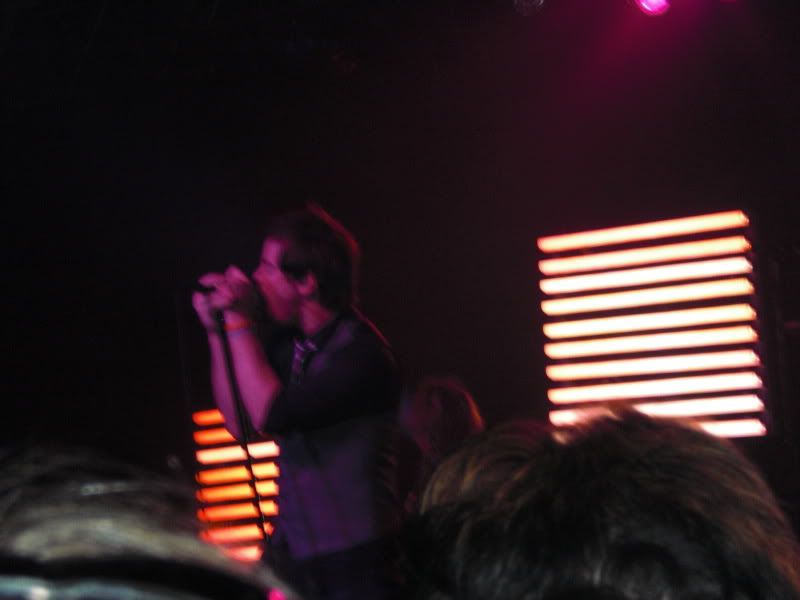 We go out to the buses, David doesn't come out, security threatens us, even though there was only 40 people surrounding the bus and not doing anything but standing there and conversing. they said that david told them to call the cops. yeah, okay. joey came out and we saw his back, he was wearing a hoodie and tried to be all ingognito and Kyle came out to put his shoes on the bus or something lol. He completely ignored THEEEEM, so thank you kyle. you get a cookie.